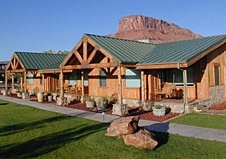 Sorrel River Ranch – Imagine brilliant green against red rock cliffs, add a soothing river and you have the setting for Sorrel River Ranch. Our family spent several days basking in the beauty of the place. We went rafting on the river, swam in the pool, and rode horses on the trails through the adjacent BLM land.
Just an hour from Arches National Park and the fun-loving town of Moab, Sorrel River is a great place for getting away from it all in style. The Restaurant serves gourmet meals, the "Old West Style" cabins are modern and feature a big soaker tub to relax in after an active day on the ranch.
It is hard not to be in awe of the sheer beauty of this place. Some of my best memories from Sorrel River are quietly sitting on the cabin porch gazing at the incredible surroundings. If you visit, bring your camera!
Want to explore horse facilities in another State?
Click below to go to the State you're interested in visiting.