Tin Acres Horse Hotel in Colby, Kansas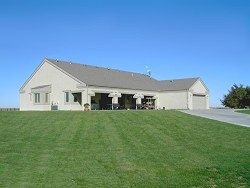 Tin Acres Ranch – Ranches in Kansas? Yes, indeed. We stayed with Jane and Theron on two different trips through Kansas. It's close to the Interstate and the facilities are A+. After a long day in the trailer, my horses welcomed the large box stalls with the paddock runs. The well water tasted good too as all my horses dove in without hesitation. The indoor arena is quite nice as is the barn.
The people facilities are plush too. There were a group of us so we took over the whole bottom floor of the house. My daughter was tickled because there were multiple TVs and I was happy because our room included a piano so my daughter could keep up her practice.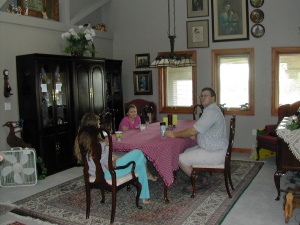 If you're traveling along I70 near Colby and you need an overnight stable that will pamper your horse, I highly recommend Tin Acres. They also have some lovely horses for sale if you're in the market for a well bred quarter. I was quite taken by several of the horses and my husband was glad my trailer was already full when we got there or I might have taken one or two home with me.
For information on Tin Acres, call 785-462-3600 or 785-462-7525. The ranch is located just north of Colby, Kansas.
Want to explore horse facilities in another State?
Click below to go to the State you're interested in visiting.