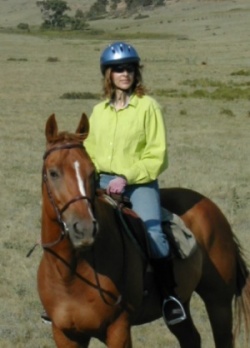 Buying a horse, whether backyard pony or champion, is a big investment that needs to be protected. Just as you purchase insurance for your boat, car, motor home, etc., it's a wise investment to protect you horse as well.
There are about as many insurance policies for horses as there are for people and can be very confusing. A number of companies offer policies that can be customized to meet hobby or business needs. In this article we'll discuss some of the horse insurance basics.
When to buy Horse Insurance
Be sure to have the policies in place on the day of purchase. Many policies have an age minimum, so be sure to keep that in mind for the policy and timing for your horse purchase. Check the policy for coverage for humane destruction, medical causes such as colic, and natural disasters like lightning strikes, flood and tornadoes.
A yearling was purchased and was turned out in his new pasture. Next morning the colt was nowhere to be found. A through walk of the field found a cave-in where the animal fell to his death into the cave below on the night he was purchased.
Equine Mortality Insurance
Similar to car insurance, or life insurance for people, horse mortality insurance covers your animal in the worst case scenario. You may receive payment for your purchase price, like a whole-life policy for people, or a partial or pro-rated settlement, similar to a decreasing term policy for people. You may declare a value less than your purchase price to save on premium costs. Be sure to evaluate premiums over time versus expenses and replacement cost for a new horse.
I knew a woman who purchased a highly ranked dressage horse. When the animal died she was not paid her full purchase price, as the horse was not shown at the same level of dressage competition as when it was purchased. This, according to the carrier, devalued the horse and reduced the payout. Be sure to take time to research policies to determine your needs against the cost and available policy options.
Equine Insurance Policy Options
Two other types of horse insurance policies to look into are Medical and Surgical, and Loss of Use. These are add-on riders to a Mortality policy. To take advantage of Medical and Surgical coverage, you may reduce your horse's value on Mortality to afford premiums for medical and/or surgical insurance.
Medical and Surgical Policies
As the name indicates, Medical and Surgical insurance covers diagnostic treatment and surgical treatments associated with accidents. This is similar to your medical coverage for your car insurance. If you have an accident, these policies with cover the diagnostic and treatment procedures after a specified deductible is met. These policies do not cover general vaccinations, annual check-ups, or any cosmetic procedures. This not something I would have for my backyard pony, but for a competition jumper, an insurance option to consider.
Loss of Use Horse Insurance Policies
Again, not for the backyard packer, Loss of Use pays a percentage of the animal's worth if the horse becomes unfit to perform a use specified in the policy. This is only due to accident, injury or disease. Be aware if paid out, that like totaling a car, some policies have an option to claim the animal. Once a loss of use claim is paid the policy is complete.
Insured value may be equal to the purchase price, and may be increased if justified by performance; shows, racing, breeding records. You will be required to submit information such as bill of sale, registration papers and show/ breeding/ race records. Once the decision to purchase insurance is made, an insurance agent with experience in offering horse insurance can help you sort through reputable companies their policies and options.