Five Star Ranch – A Resource for Horse Lovers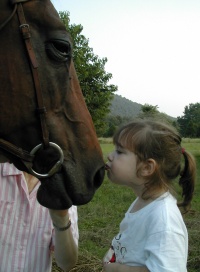 Horses, kids, ranches, trail riding, and equine equipment – all of these are of interest to us here at Five Star Ranch. We are horse owners and horse lovers – for us, horses are a way to
bring the family together.
The Five Star Ranch site is a helpful resource for horse owners to learn more about horses, horse care, and all aspect of getting out in the great outdoors. Horseback riding (and even just horse owning) is a healthy and rewarding activity.
Our Writers
Here is some information on a few of our Five Star Staff writers.
Chris Churchill – a lifelong horse person, Chris shares her love of horses. She is one of the owners of Five Star Ranch and owns six horses who are her pride and joy. Chris participates in many riding disciplines including western and classical dressage, cow work, and trail riding. She is also a trained equine massage therapist.
To get to know us better, we put together a compilation of happy horse pictures in the video below. The pictures are of the horses, friends, and staff at Five Star Ranch.
Horse Activities
We are active horse people and part of our mission is to share horse experiences with you. Something we have enjoyed in recent years is vacationing with our horses. My comfort-loving family loves to stay at horsey bed and breakfasts and guest ranches that offer private horse facilities. Most of these places adjoin great trail riding areas, so no trailering is necessary once you get to the facility.
Horse Travel Experiences
Our horses go with us on vacation. We've found this to be a growing trend with horse lovers. We've camped out with our horses at KOA's, state park horse campgrounds and fancy horse bed and breakfasts and dude ranches. We want to share what we've learned and hear about your experiences traveling with your own horses.
We set up one section on the site to share our experiences with different horse vacation ranches, horse friendly bed and breakfasts and vacation dude ranches. Our Guest Ranch Vacation review section includes information on horse friendly places we've stayed or learned about in our travels.
Practical Horse Advice
We are long time horse owners who do their own daily horse care. Several of our horses have led active lives into their 30s. We've learned a lot about managing horse arthritis pain and general senior horse care. We have learned much from talking with other horse owners and vets on how to care for horses.
We know a lot of you are serious horse people. Many have professional indoor riding arenas and custom barns. Many of you are thinking of building your dream equestrian facility. We would love to hear tips and experiences you've had with your facilities.
The horse fencing you chose can have a heavy impact on your horse's health and your pocketbook.
To help you be an informed consumer we have included an article on the types of horse fencing that includes a discussion of the pros and cons of each horse fence variety. A second article includes horse fence building tips. It includes safety considerations as well as fence design ideas.
One of our most popular articles was written with help from my teenage daughter who has many horse miles under her belt. The article entitled "How to Select a Trail Horse" has practical advice on what is important in picking out a horse from a horsey teenager's perspective.
Chris and Mike Churchill
Five Star Ranch Staff
Lifetime Horse Owners