By Chris, Five Star Ranch Staff writer
My riding partner and I recently attended a horse de-spook clinic over at Grasslands Bed and Barn in Alvord, Texas. One of the goals of desensitization training is to get your horse's respect and to build a better relationship with your horse.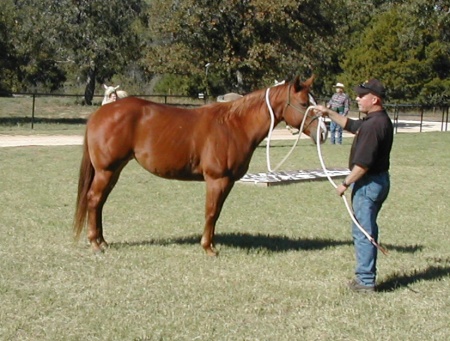 Greg Sokoloski, our instructor, is a member of the Houston Mounted Police. He coached us through learning to be leaders for our horses. In the picture above, you can see him with my mare Zippy.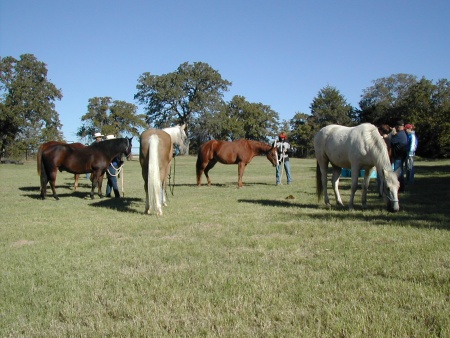 Day One – We started first with a session without horses so Greg could describe what we would be doing over the next two days. Then we had a session with our horses in string halters.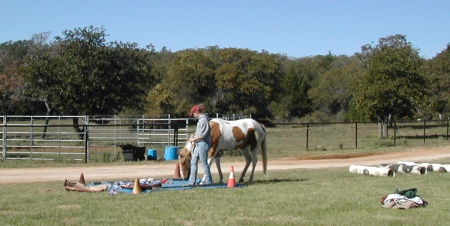 We led our horses up to a series of obstacles and let them smell them and learn to investigate new objects. Here is Lakota calmly walking over a tarp on the ground covered with cans, plastic bottles, and other normally scary things.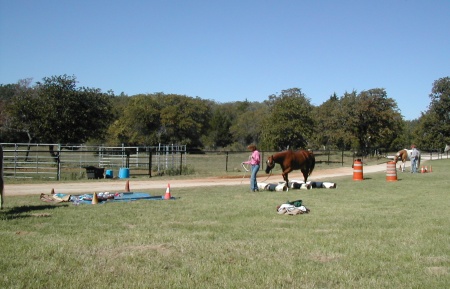 Greg had set up different toys for the horses to puzzle out. The horses seemed to be throughly enjoying the stimulation and attention.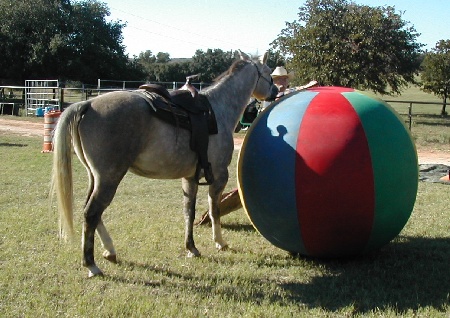 During the Clinic we exposed our horses to a variety of interesting objects to encourage left brain thinking. You could almost see the horses "processing" information.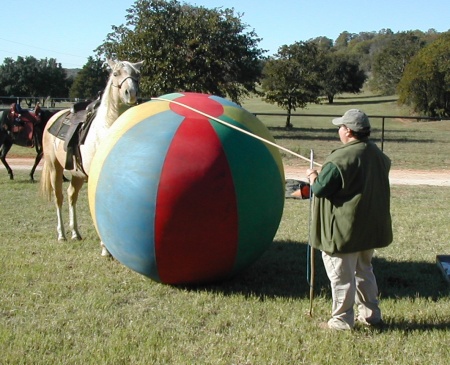 The "big ball. was my favorite obstacle. I wouldn't expect to encounter a big ball on a trail ride, but getting the horse to be willing to accept new things is a big part of the training process.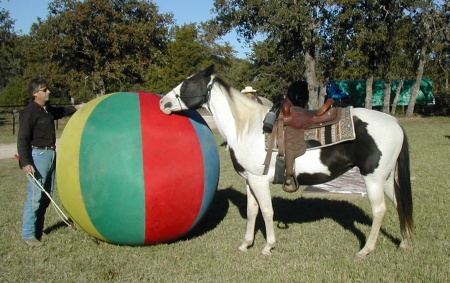 We had a number of beautiful paint horses in our clinic. Here is one playing with the ball.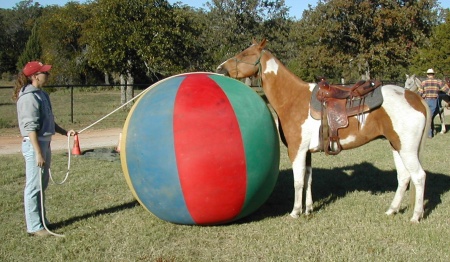 Some of the horses became so comfortable with the ball they would rest their heads on it.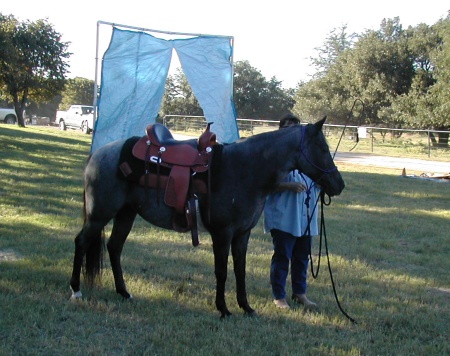 The horses seemed to really enjoy the mental stimulation. Ears were perked forward and they were very interested in all the activity.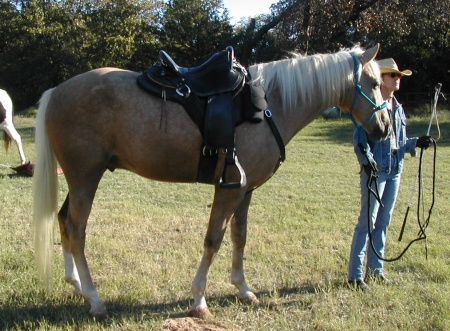 Above is the brave walking horse Chance looking very relaxed.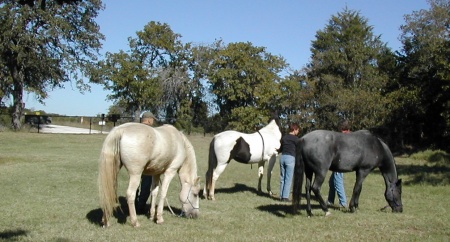 Some of the participants on a break. One thing that was interesting at the clinic was the number of different breeds represented. We had Walking horses, quarter horses, warmbloods, peruvian pasos, pintos, and several other horse breeds.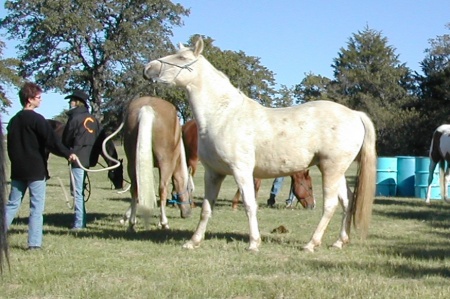 Here's Pam backing her horse teaching it to maintain a respectful distance. Many at the clinic practice Parelli and other natural horse training methods. The approach that Greg was teaching was in align with these training techniques.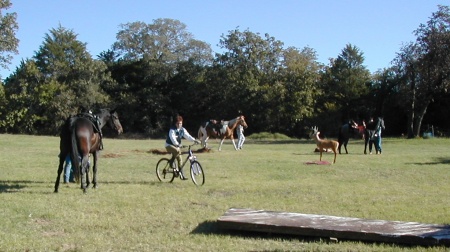 Since many of us ride in public parks it is important that our horses don't freak out at bikes. Pam helped out by riding around on a bike.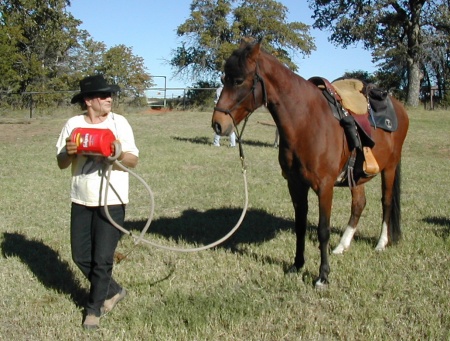 Some of the new toys made a lot of noise. Here Diane's Peruvian is displaying confidence despite the jug of rocks Diane is shaking.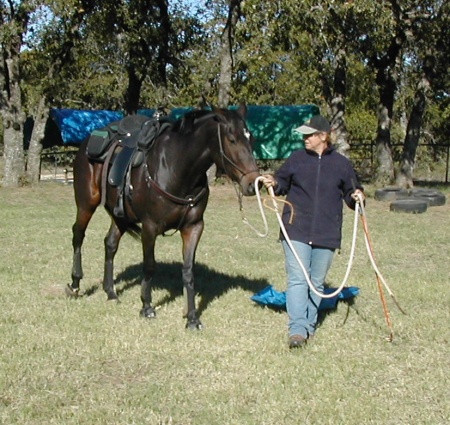 Here's a warmblood cross confidently dragging a crackly plastic tarp. We dragged around a variety of toys including old feed sacks and noisy bags.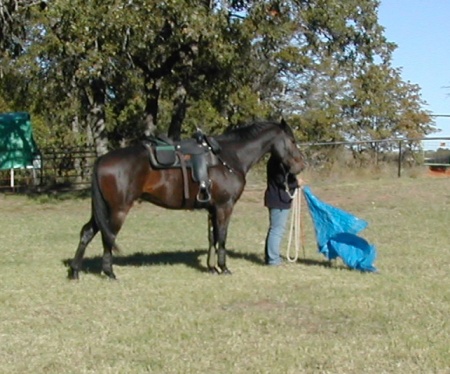 The warmblood looks at the plastic sheet blowing in the wind, but doesn't over react.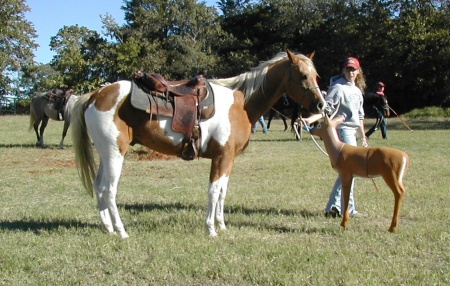 Many of the horses met a new friend – Mr Deer.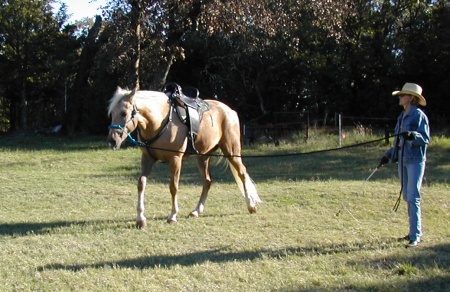 Groundwork is essential to a successful horse-human relationship.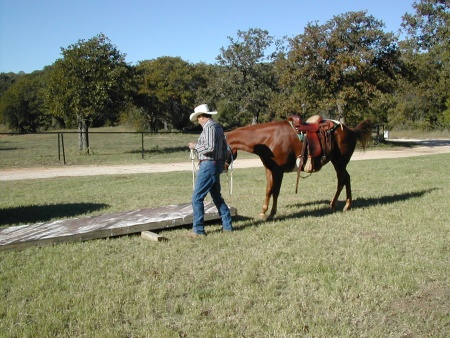 A real confidence builder was the bridge. On day one it was a flat platform. On Day Two Greg and Pam and inserted a rail under the platform so it turned into a teeter-totter.
The rocking bridge turned it into a whole new obstacle to explore and conquer.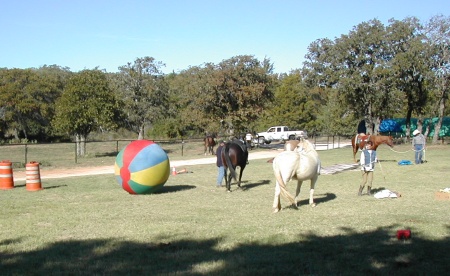 Our Field-of-toys. In the back ground you can see the tunnel. That was especially fun when the wind blew and the plastic rattled.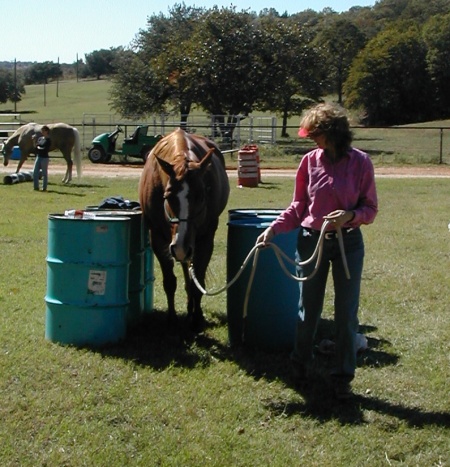 Horses are naturally claustrophobic so we practiced going through tight places.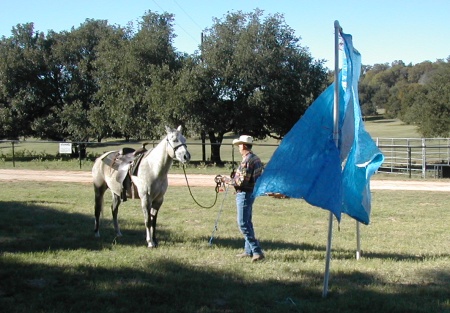 When the wind blew, the hanging tarp could be very intimidating at first.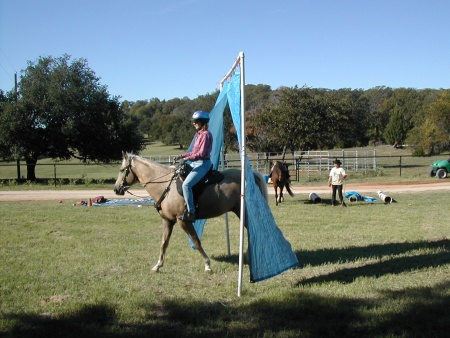 After introducing new obstacles to horses from the ground we explored them on their backs.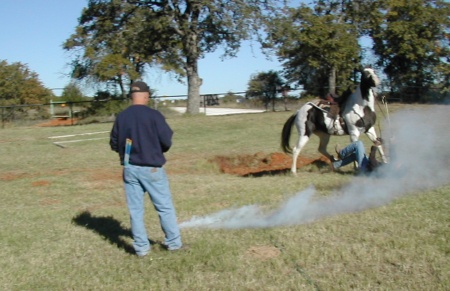 The ditch was one of the most difficult obstacles. This paint got a bit too close for comfort.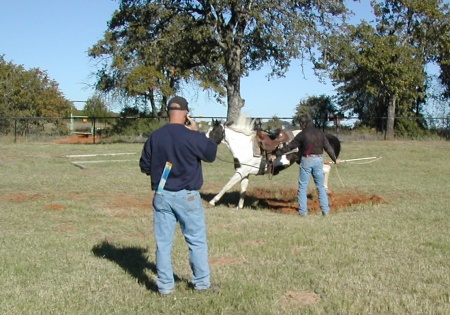 Here the same paint after it has learned respect and is comfortably crossing the water ditch.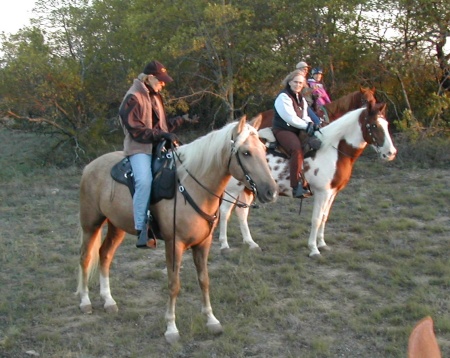 At the end of each day we all were treated to a relaxing trail ride in the Grasslands preserve.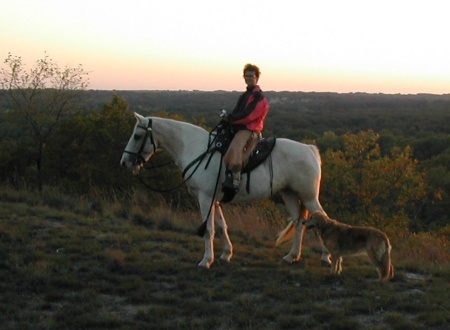 Pam on her gaited horse with her dog pose on Sunset Hill.