By Chris Churchill, Five Star Ranch Senior Staff Writer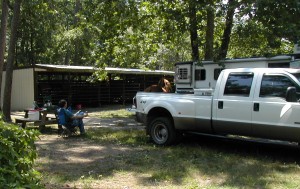 Horse camping was not something I was raised doing. In fact, I had never thought about camping with my horse until a few years ago.
My husband and I were trying to come up with ideas for a cheap family vacation. We had done the Disney World trip, the cruise, and the nearby Six Flags. I was yearning for something more traditional and something to do with my horse. A vacation camping with my horse was perfect.
At first the idea of taking my horse with me on vacation and camping out sounded outrageous and logistically too difficult. However, once the idea of a horse camping vacation was in my head, I couldn't get past it.
I decided to study my options. One of the first things that surprised me was that many state and national parks have horse camping facilities. There are also specifically designed businesses that cater to the horse camping crowd. You have to do a little research and it takes a little more planning, but anyone can camp out with their horse.
Here are some tips I learned a long the way that might save you some trouble. This article focuses on camping at your trailer rather than in the back country with a pack. That will have to be another article. Anyway, here are tips for camping at your trailer.
Have a good trailer. The trailer doesn't have to be pretty or expensive, trust me the first time I went across the country I was hauling a 32 year old steel trailer that had about 6 different colors of paint. It was ugly, but it was sturdy. I wasn't trying to impress anyone; I was just trying to haul my horse. I've since had to graduate to an aluminum 4 horse because now I'm pulling more horses. My trailer is still not fancy, but again, I'll take reliable over pretty any day.
Research facilities in your area. Get on the state parks web sites and search for horse camping. Surprising there are a quite a few private horse camping facilities as well. Tap into your horsey friends and horse trail organizations. Ask about where they stayed and the facilities available. A lot of the best horse places are not well advertised. You might only learn of them by asking around.
Practice camping out with your horse before you leave home. I was amazed how my list of Must-Haves evolved the more I camped out. Camping out with my horse was a great dress rehearsal so I could work out the details to keep me from being miles from my can opener when I had canned soup on the menu.
Decide: how rustic do you want to go? Do you want to sleep in your trailer (the gooseneck is ideal), in a tent or in your vehicle? I have a number of friends who define camping with their horses as parking their trailers in a field and cranking up their generators to catch their favorite TV show on their satellite TV.Some of the luxury live-in quarters I've seen in some trailers are nicer than my home. (I'm not into home decorating so it's not hard to be nicer than my place.) If you want to sleep in your trailer and it's not finished out, you might look into doing it yourself or at a minimum adding some insulation into the roof. We put rigid foam insulation with foil backing on the inside roof of our trailer and that helped immensely keeping the inside of the trailer more moderate.
Consider creating an outdoor living space for relaxing and cooking. You can do this either by using an awning on your trailer or a pop up tent cover that can provide shade and shelter from the rain. This makes cooking outdoors more enjoyable and if you have a screened in version it can even reduce the number of bug bites.
Consider: what horse accommodations do you want? Horse Panels, Stalls or High Lines? Some people only want to camp in places that have covered stalls for their horses. This is nice but in many horse camping locations especially the more primitive areas you may have to set up high lines (horses are tied above their heads but can move around some to graze) or lightweight horse panels for portable corrals. Hobbles might be an option if your horse has been trained to use them, but they work better in open field camping, not when you are near traffic or have neighbors closeby.You will need to know in advance what the site has to offer so you can bring the appropriate gear.
Don't forget the feed and water buckets. When you're camping out with horses, you almost cannot have enough buckets. I have built in feeders in my barn and on my first excursion I got to my site and realized I had forgotten feed buckets. I'd thrown in water buckets, but forgot to grab the feeders. Fortunately I had smaller buckets in the back of my trailer and was able to make do.
Bring more hay than you think you'll need. Extra hay will allow you options like if you decide to stay an extra day. If you're riding longer days, your horses may need a little extra roughage than when they are standing around at home.Our trailer has a rack on the top for extra storage that is perfect for carrying hay. It's a pain putting hay up there, but it does keep it out of the way once it's up there. The one caution I will say about using a overhead rack on a trailer is don't use bungee cord to secure the hay on the roof. We did that once and in a freak wind gust, the hay was lifted up and the bungee stretched and unhooked releasing hay all over the highway. It was a scary few minutes until we could clear the hay, and we lost about 4 bales to the road. So, tie the hay securely with non-stretchy rope after you cover it with a tarp. The tarp will protect the hay from getting wet and fading in the sunlight.
Carry horse boots with you. We always carry emergency horse boots in our saddle pack and we've used them several times when a horse lost his shoe or gets a stone bruise miles from the trailhead. When you are a day's drive from the nearest farrier, having a horse boot makes the difference between cutting your trip short or continue riding with a boot. Many endurance and trail horses ride all the time in boots. Make sure the boots fit your horse before you leave home. You might also pack a pair of clinchers in your saddle bags so you can repair a loose shoe on the trail.
Bring water. Equip your trailer with a water tank for you and your horses. Ideally you want to camp near a source of clean water for your horses and potable water for you so you don't have to use your hauled in water, but that isn't always available. There are several manufacturers of water tanks that fit in unused corners in your trailer. Get one or two of the tanks and test how far the water goes for you. Monitor the water so you don't get caught without at a bad time.Many horses won't drink when they are on the road or in a new place. Often if you add molasses or Kool-aid to the water it will entice them to drink.
Bring extra tack. We spent a month on the road this last summer and before we left I threw in about 4 extra bridles. Guess how many we used???? Okay, only two, but still, you get my point. When you are riding everyday and in rough terrain, you are more likely to break a rein or a bridle than normal. I can't remember breaking a rein in the last two years, and then we went through two in the intense summer riding trip. Having the extra tack made it a simple problem to fix. I just grabbed another bridle.
Horse Camping – a growing trend
The best part of horse camping is that it is something you can do with other horse friends. Often people plan trips with horse buds and it turns into a fun social event. The growth of organized trail rides and competitive trail events has helped the growth of horse camping into a popular new horse activity.
Looking for additional resources on horse camping? Below are some books to help make your camping experience a positive one.