Or Another Way to Have Fun With Your Horse
By  Chris Churchill, Five Star Ranch
Every year my home town of Lucas, Texas has a Founders Day celebration the last Saturday in October. Since the day falls close to Halloween, the custom of dressing up in costumes for the Founders Day parade has become a tradition. This tradition extends to the many horses and their owners who participate in the parade.
Last year my daughter took photos of the parade and I collected them in a video. You can see it below.
Lucas is a horsey area and the town is home to a section of the Trinity Trail, a 25 mile hiker and equestrian trail that runs along the west side of Lake Lavon. Lucas residents and horse owners from the towns near Lucas haul their horses in to participate in the parade.
The Trinity Trail Preservation Association, a non-profit all volunteer group that maintains the trail, holds costume parades and many of its members participate in the parade. Over the years we have had all kinds of amazing costumes of horses in the parade.
Fun Pictures of Horse and Rider Costumes
People get very creative in their costumes and most are homemade. Below are some my favorite costumes.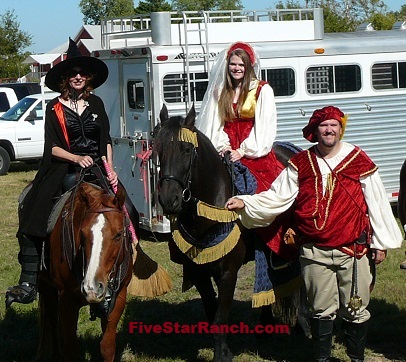 Renaissance Princess, Henry the 8th, and Witch Costumes
This first picture is our family in costumes. I'd like to point out that our costumes were homemade. My daughter and her Friesian horse Zegna are wearing their Renaissance costumes that a friend made for us. Since our friesian exudes royalty, it seemed like a good fit to dress like royalty ourselves.  We have had such fun with these outfits over the years using them for multiple Halloweens and special events. My daughter's gown and the outfit my husband is wearing were both made by a friend who sells costumes at Renaissance fairs.  You can find many talented people who do this online, although I was lucky to have someone who did this in my town.
I assembled the witch outfit from odds and ends around the house. I did buy the hat at Walmart for under $10. Note my foot is in a medical boot which was fortunately black to blend in with my costume.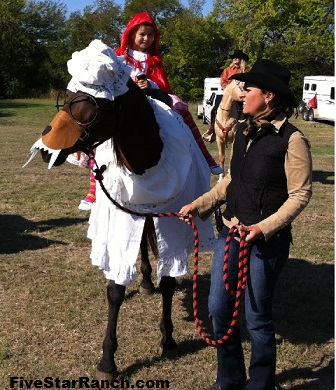 The Big Bad Wolf and Little Red Riding Hood Costume
This outfit is one of my all time favorites. This is an example where creativity wins out more than cost. Most of this costume was homemade.
This pair was a crowd favorite in the parade and is perfect for a child – adult combo costume.
Since many of these costumes involve floppy material and things on the horse's head, I would strongly recommend you put the costumes on the horse before the day of the parade in case the horse needs time to adjust to the costume.
Also, if the parade is a first for the horse or if the horse is prone to getting excited, it might be wise to plan to have an adult attendant walk along with the horse – this is a must if you have a young child on the horse.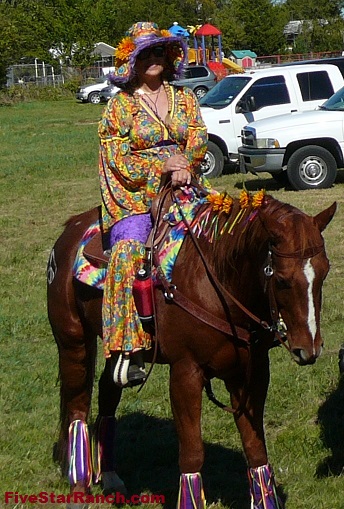 Hippie Costume for Horse and Rider
My friend Joan assembled an amazing hippie costume for herself and Ranger one year.
It definitely helps if you or a friend can sew. Joan created this costume using lively material, but she enhanced the look with inexpensive accessories that really completed the outfit.
Note the flowers she weaved in his mane and the streamers around his legs. These were inexpensive yet added to the costume. The tie-dye looking saddle blanket was found in the barn. My daughter had picked it out many years ago when she was going through her "bright colors" phase.  The 60's slogans and peace symbol were painted on the horse with white hobby paint.
Zorro Horse Costume
Dressing up as Zorro is the perfect outfit for a black horse, especially for one as gorgeous as this Arabian.
This outfit is relatively easy to assemble. If you have a pair of black pants and a black shirt, you are most of the way there.
Every household needs a black cape around – if yours doesn't hit the discount stores – especially the day AFTER Halloween – then use it with a costume the following year.
We actually have a small section of a closet that has been set aside for costumes that we re-use or use parts of year after year. We have several capes and black tunics that have been transformed into different outfits.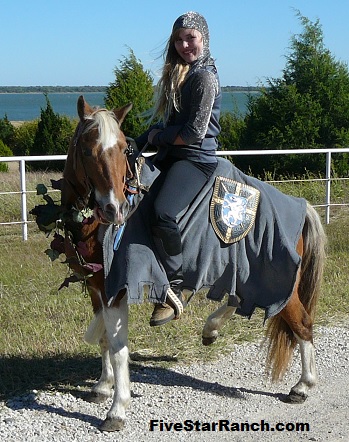 Knight Horse Costume
Here's another costume that can be put together inexpensively. The blanket which makes up the horse's armor is probably sitting in your closet right now. A little creative cutting and you can transform the blanket into armor.
Combine the blanket with a quick trip to the local costume store for a plastic sword, a shiny top that looks like chain mail, and the all important shield and you have a knight outfit.
As you can see, most of these costumes have been made at home from things already there. You don't have to spend a lot of money to have fun with your horse. Part of the fun is getting creative and designing a costume on the cheap.
Dog Costumes
If dressing up with your horse isn't enough, you can expand and dress up with your dog.  There are many over the counter dog costumes.  Here are a few that caught our eye.