By Chris, Five Star Ranch Staff Writer
You've made the decision to buy a trailer, but the option and features are a little overwhelming. Here are a few questions to ask yourself to help make your decision a happy one.
How Much Trailer Do You Need – 2 Horse, 3 Horse, 4 Horse, More?

First off, decide how many horses you need to pull. A larger trailer may require a bigger towing vehicle, cost more in fuel, and be more difficult to park. Unless you need a bigger trailer (and have the money to buy the required vehicle to tow it), buy only what you need.
Ramp vs Step Up Trailers
Deciding on whether to buy a step up or ramp trailer is largely a matter of personal choice. Horses can be trained to use either. One observation I've noticed is that ramps seem to be more popular on the East coast, especially with the English crowd. In Texas, where I spend a lot of time trail riding, the step up is more frequently spotted. In Europe I saw mainly ramps. One version isn't necessarily better, but which ever variety you go with, train your horse to use both.
Sometimes you have a special needs horse that may require a ramp. For example one of my horses turns 30 this year. She has a hard time stepping out of a step down trailer. For peace of mind, I've opted to use a ramp trailer whenever I transport her. It's easier for her and I don't worry about her stepping out wrong and breaking one of her wobbly legs. (Have an older horse? Here's a few other tips on senior horse care.)
If you are torn on the ramp versus step up option, something to keep in mind is that you can add a ramp to most trailers. See the picture to the right and you can see a trailer that has the two doors like a step trailer, but also has an added on ramp.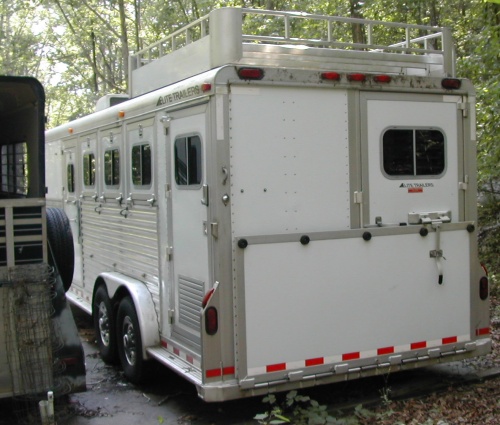 Bumper Pull or Gooseneck
Your towing vehicle will influence this choice. Obviously if you are using a car or SUV to pull, a gooseneck is out of the question unless you want to upgrade your towing vehicle.
The gooseneck provides a great storage or sleeping area depending on what you need. The gooseneck usually provides improved maneuverability and control.
The bumper pull is often shorter and takes up less space storing it. The bumper pull is usually less expensive. If you're only hauling two horses, the bumper pull is fine. For three or more horses, we recommend the added stability of a gooseneck.
Living Quarters – Do You Really Need Them?
Some people are out in their trailers nearly every weekend. They take them to shows, events or trail rides and want to stay near their horses in comfort. For these, the living quarters provide a home away from home and save money in motel bills and eating out.
For the vast majority of us, the living quarters option is a "nice to have" feature. If your budget allows it and you think you would the living quarters, indulge yourself. Heck, the expenditure may motivate you to ride more to justify the purchase.
Some people have used their living quarters as temporary housing while they were building a new house or were otherwise displaced from a normal roof over their head. (Think Katrina victims.) I heard about one family who use their trailer for luxury camping trips and use the horse compartment to haul bicycles and gear – not even bringing their horses.
If you do opt for the living quarters, know that you can spend as much as a house for them. Before you buy, decide how much you will really use it, what options you want and don't want, and go forth. You might also check for used trailer sales on the Internet – I see many trailers with living quarters available at reduced prices.
For many people the regular tack storage area in the trailer is enough room. If you don't camp with your horse or make frequent overnight stays with your horses, you may be able to get along with the normal tack area fine.
Slant or Straight Load
This question will stir up debates in any horse gathering.
If you haul a draft, warmblood, or other large breed, your horse may not fit comfortably in the standard slant load. If you haul a large horse there are a horse trailer manufacturers who cater to larger breeds and offer customized slant loads that are longer, taller, and wider than normal – so in some cases, a larger horse can, fit in a slant load. However, the average horse runs between 15 and 15.2 hands and can fit in either a slant or straight load fine.
If you've ever watched loose horses in a stock trailer, you'll notice that they often stand on a slant out of preference. Slant loads are an efficient use of space – a two horse slant is often shorter than a two horse straight load.
Aluminum, Steel, or Combination
Aluminum trailers weigh less than a steel trailer, won't deteriorate as quickly and hold their resale value. Steel trailers are often cheaper, but require care from rust. One advantage of the steel is extra protection in an accident. There are also hybrid construction trailers that combine the best of both worlds.
Horse Trailer Height
If you live in a hot climate getting a tall trailer provides extra height and extra air space which could help keep your horses more comfortable. A tall trailer also helps the trailer look less like a cave and more inviting to enter. They also cost a bit more. I would recommend for the most versatility go at least 7 feet in height. If you routinely pull large horses (over 16.1 hands), go with the tall trailer version – 7 feet 4 inch or higher.
Horse Trailer Features
Every horse owner has thoughts on horse trailer features they love. Here are few to keep in mind when you are trailer shopping.
I love escape doors in horse trailers. I like to be able to check on my horses on trips and that is easier with an escape door. Also, many people like the escape door when loading. With my seasoned travelers I merely open the trailer door and they walk in, but some people prefer to lead their horses in. The escape door gives the human a way to get out of the trailer without having to squeeze by the horse.
Drop down windows are something else I love. The drop down windows let more air in than the smaller sliding windows. Of course, the most air flow is from the stock trailer variety with open slots on the side. In the summer good air flow can help make the horse more comfortable. I like the drop down because I can increase the air in the summer months and reduce the amount in the cold winter months.
In the picture above you can see drop down windows with the bars. The bars allow air flow but keep the horses heads inside the horse trailer. If you've ever been hit by a bug going fifty miles an hour you can understand why the bars are a good thing. My trailer is older and doesn't have the bars so I have put in screens. The screens reduce the air flow slightly, but it also adds some sun protection that the bars don't offer.
Another feature I like in trailers is a built-in water storage tank. If you do a lot of trail riding, these make hauling water easier. Its also nice to have the water source if you ever have trailer problems and have to stop. They make a variety of these that you can add to a trailer. One type I like a lot is a triangular tank that fits vertically in the corner of most tack rooms. Because its in the corner, it doesn't take up much room, but these hold 25 – 50 gallons of water (depends on the type).
Loading lights make loading in the dark safer and easier. These can be added on to any trailer, but the higher end trailers usually have them installed at the factory.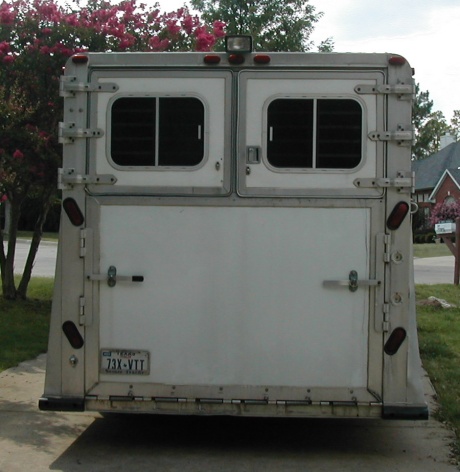 Top Hay Storage – An optional top hay storage can be handy if you're traveling long distances, but you need a strong arm to hoist the hay bales on top of your trailer. See the third picture in this story to see an example of a trailer with a top storage area. Actually this trailer also shows another feature I like, that being the side entry door to the rear tack. This allows you to access items in the rear tack without opening the back end. Very nice.
New or Used Horse Trailer
If you have specific requirements and can't find them on the secondary market, by all means go new. Many people getting living quarters want them customized and for this you often need to go new. However, if you just need something to transport your horse, there is a huge inventory in the second hand market and going this route can save you money.
Many dealers sell used trailers along with their new ones. There are many folks who find the trailer they bought last year doesn't fit their needs, or was too expensive, too hard to park, or too something they didn't want. Check out your options in the used horse trailer market online by searching for "used horse trailer" on your handy search engine.
Ready to Buy?
Most of the questions we've posed here go back to personal choice. There isn't a right or wrong answer, but more something to think about in your horse trailer selection process. Decide on the big options and then when the dealer starts throwing all the features at you, you'll at least know where you stand on the big items. Hopefully this will result in a happier buying experience.
Now, Where to Go?
Once you get your horse trailer, your next decision is where to go for new riding adventures. Most of us don't have 1000 acres in our backyard to ride on (if you do, invite us over – we'll bring the donuts!). Fortunately, there are many public lands and parks that allow equestrians. Frequently guest ranches or horsey bed and breakfasts are located near public land so you and your equine friends can stay in comfort. We have collected reviews on guest ranch vacations and horse friendly bed and breakfasts. If you know of others, please share your stories with us.