By Chris Churchill, Five Star Ranch Staff Writer
Updated April 2019
There's just something about a vacation in the mountains…
A few years ago when we were in Colorado for a friend's wedding, I dragged my hubbie out to look at land for our perspective new home. There is nothing more persuasive than a long hot Texas summer to convince your spouse that relocating to a cooler climate might be a good idea. Four years earlier we had landed ourselves in Texas when we sold our Internet startup and had to transfer there as part of the deal. Texas is nice and great horse country, but I found I really missed the four seasons and the mountains. My folks had retired in Estes Park, Colorado and I had gone to college at Colorado State University, so I always felt I had roots in Colorado.

We fell in love with a parcel of land in the northern Front Range about 10 miles south of the Wyoming border and two hours from the Denver airport. Here's a view of the 80 plus acres we finally purchased.
It's a beautiful place – the mountain in the back drop is Haystack Butte which is actually in the National Forest land but our property borders it. The National Forest has miles of horse and hiking trails to explore and something like 20 thousand acres of public land.
A Memorable Vacation or How to Go Insane in Two Weeks – Guaranteed
This past summer we decided to do something different for our family vacation. Different in our case meant we loaded up three of our five horses and trailered them from Texas to Colorado. My 20 year old niece, brave soul that she is, accompanied us on our 2,000 mile round trip journey. You can read her account of the wild horse trip here.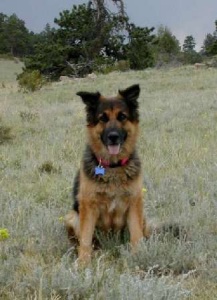 Lady the dog
Since it was a two week trip we decided to bring our dog Lady with us rather than leave her at home. Even though we have an excellent pet sitter who comes in several times a day to check on our 4 cats, we felt two weeks was too long to leave this member of our family. Lady is a long haired german shepard mix and was more comfortable in the cool Colorado mountains than in the 106 degree Dallas heat. She hiked with us through the National Forest and all over our land.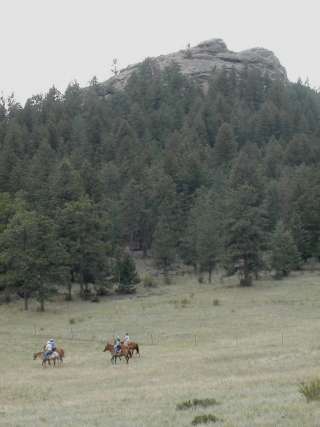 First Ride On Our Land
One of the highlights of the trip for me was riding on our land with our horses. We rode with our neighbors who have become friends over the last year. Here you can see us riding in the pastures to the East of Haystack Butte.
Included on our property is one of the best springs in the area. Live springs are a blessing. Our little spring is small, but it keeps the area critters alive. And critters there are. Local wildlife include elk, marmots, deer, an occasional moose, rabbits, as well as a variety of predators including coyote, mountain lion and bear.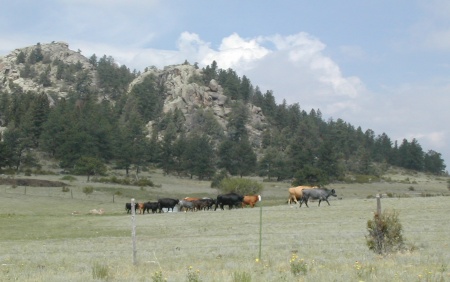 The Old West – Complete with Cattle
At the moment we have a rancher running cattle on our land. They keep the vegetation down which reduces the fire hazard – that is extremely important in an arid climate prone to forest fires.
When the cattle came up to drink from the spring I felt like we'd gone back into the 18th century Old West. You can see part of the small herd heading for the spring.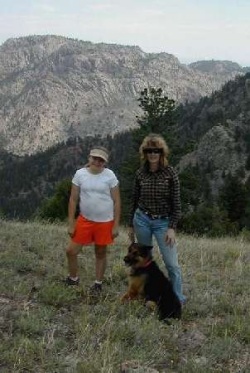 Hikers Paradise
We did several hiking excursions out into the National Forest behind our property. Here you can see Kaitlin and I with Lady on a mountain top where we had stopped to have a picnic. This particular picture is at around 8000 ft elevation – not particularly high, but still we felt it in our lungs when we hiked.
The views are really amazing out there – you can see for miles in every direction, no road noise, no people, just you and nature in all its glory.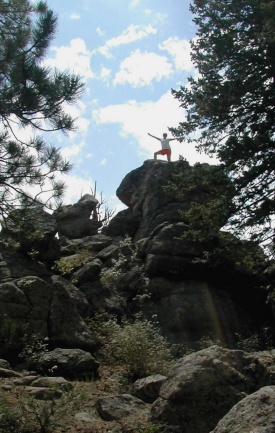 Kaitlin on the Rocks
My daughter Kaitlin is fearless on the rocks. On previous trips to Colorado she has climbed like a mountain goat with my brother Keith (a professional climber who has scaled the Eiger). I know its in her blood, but it still makes my heart fearful when she gallantly scampers up a rock formation.
Horses and Horsey Friends
Riding in the mountains combines incredible scenery, sport, and great times with friends. We found that we always got back after dark because after our rides we would linger and talk. Soon the coyotes would be howling and we'd realize dinner time had long past and it was time to go.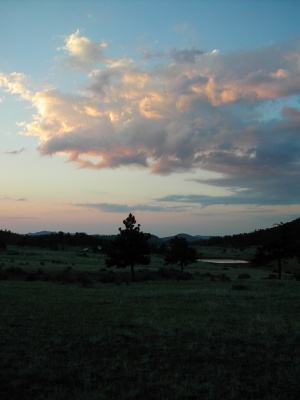 Sunrise
One morning my husband and I got up before sunrise and went out to the property. As we watched our first sunrise on the land, we were treated to an amazing array of changing colors and light patterns. This picture looking due East doesn't do it justice, but it was a gorgeous sight.