By Vicky, Five Star Ranch Staff Writer
The best (and worst) dressed are not only walking the red carpet, but also walking your paddock. The best dressed horse isn't decked out in Armani or Ann Taylor but wearing the latest in blankets from Rambo, Baker, Weatherbeeta, Rider's International, Lavenham, PolarTec……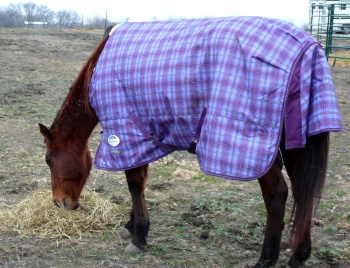 The weather has finally turned cold, with a vengeance in some areas. So be sure to consider your horse's energy needs as well as your own. Whether you have a clipped hunter, or just an older animal in your yard, these icy, stormy days can take a heavy toll on your horses' ability to withstand the artic blasts. Protection from wind is paramount, but a nice toasty winter blanket can help many older and short haired horses enjoy these winter months.
My horse closet was equipped with several sheets, blankets and coolers, which worked for the various seasons. Newer styles and fabrics are available from my old standards, but many of the items still remain the same. Here are some recommendations for a well-appointed tack room wardrobe for your best-dressed horse.
Just like your own collection of coats and sweaters, there are blankets, sheets and coolers, all in varying lengths, densities, and colors to choose from. Living in the south, I kept a winter rug, for my clipped hunter, wool cooler (for winter baths), a lighter weight sheet, cotton cooler, and fly sheets. I tried a hood, but my horse wouldn't stand for it. You will need to adjust the blanket weight for your own climate, but all came in handy.
Rugs are made for the coldest of days, some with weatherproofing for turnout during cold days, and others are for in-stall use. An option is always a liner with a lighter weight blanket over the top.
Improvements have been made in blanket design to add safety, flexibility and movement for your horse, as shown with Weatherbeeta's Freestyle pleated front blanket.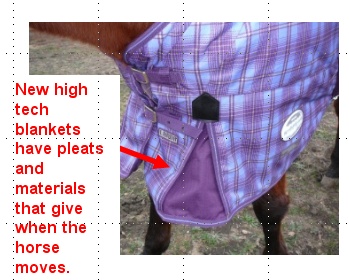 Lighter weight sheets are a great addition for those cooler nights, when a rug is just too heavy. Usually made from cotton or cotton blend, I have used on my show horses to keep the dust off at shows while waiting for classes to start.
Summers require scrim sheets to save from those pesky biting insects. Many provide UV protection from the sun, and can double as a blanket protector or show sheet. I also kept a loosely woven cotton cooler that I used after a rinse with the hose.
Once you have selected the items needed for your climate, sizing is very important.
There some variations between vendors for sizing, but generally are measured from the center of the chest around the barrel of the side of the horse to the point next to the tail. You may have to size up if the blanket includes a tail cover.
Don't forget, all come in sizes to fit your foals and ponies as well.
Don't wait till the last moment to purchase your horses' outerwear. Off-season is a great time to buy, as many items will be on sale. Be sure to check out on-line auctions for another place to shop for great deals on horse wear.