Reviews on Dude ranches in Colorado
Guest ranches and the Rockies – the perfect combination. Fantastic scenery, fresh air, wholesome exercise. Make this summer the one they remember. Enjoy a family vacation at a dude ranch.
Western Ridge Resort – Livermore, Colorado. Update: Property is changing ownership. May not be available.
This family owned western style resort is located just outside beautiful Red Feather Lakes and is adjacent to Roosevelt National Forest.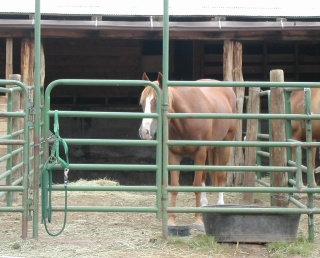 The Resort rents horses and provides guided trail rides through the National Forest. They also allow you to bring your own horse and offer covered pens for stabling. The picture above shows one of the covered pens complete with one of our horses posing. The trails behind the Resort are excellent with 360 views of the Front Range and Rocky Mountain National Park.
The restaurant at the Resort has become THE place to eat in the area. I recommend you save room for the desert – many of which are family recipes
We rented one of the two bedroom cabins and it was great. We had a full kitchen and dining room so we didn't have to eat out every meal – although the restaurant was so good that we ate there more than we planned.
Western Ridge also offers full hookups for camper trailers and campsites with water and grills.
Sundance Trail Guest Ranch – If you're looking for a family dude ranch vacation in the Rockies, you owe it to yourself to spend some time at the Sundance Trail Guest Ranch. Located in northern Colorado near Red Feather Lakes, the ranch offers a wide variety of activities including horseback riding, rock climbing, river rafting, and hiking.
One of the things that stood out to me in their children's program was that there horse trail riding is advertised as NOT a nose-to-tail riding program. They actually include instruction and teaching as part of the ride. That is special. I'm always happy to hear of programs that introduce kids to horses. Horses are magical creatures that can help kids develop healthy self esteems as well as a sense of responsibility. Winston Churchill had it right when he said "There is something about the outside of a horse that is good for the inside of a man."
I can vouch for the beauty of that area of Colorado as I fell under the spell of the place myself and own a cabin not too far from the ranch. The scenery in the area is fabulous and the horseback trails in the area are some of the finest I've ever ridden.
Want to see some of the sights for yourself? Check out their online video and photos. They will make you wish were there right now. It will be the vacation your family talks about for years. Call the Sundance Trail Guest Ranch at 1-800-357-4930 or their online reservation today.
Sylvan Dale Guest Ranch – Boasting over 3,200 acres in one of the most scenic places in the world, this family-owned dude ranch may exactly what you are looking for. Located near Rocky Mountain National Park and Estes Park, Colorado, this ranch offers facilities for everything from picnics to conferences and company retreats. Imagine the successful turnout you'd get for your family reunion if you offered fly fishing, horseback riding, overnight pack trips, and a soothing atmosphere that will de-stress the busiest executive.
Children's Packages Available – The Sylvan Dale Guest Ranch offers a variety of family packages for kids of all ages, including separate programs for teens and kids as young as 3.
Cherokee Park Ranch – Based in northern Colorado near Livermore, this family run dude ranch offers a variety of outdoor programs including horseback riding, fly fishing, rafting and nature hikes. The Ranch calls itself "100%" kid friendly and offers a complete array of Children's programs.
The Ranch accommodations include cabins and lodge suites. All come with their own front porch and swing. The Ranch hot tub is open 24 hours a day.
Colorado Trails Guest Ranch – Durango, Colorado is home to the 450 acre Ranch adjoining the San Juan National Forest. The Ranch offers kids programs and horse programs for every skill level. Other activities available are swimming, nature hikes, basketball, hayrides, and western dancing.
The Ranch facilities include an Opera House for evening activities, Trading Post for things you forgot, and a Ruckus Room for kids.
Want to explore horse facilities in another State?
Click below to go to the State you're interested in visiting.