By Chris, Five Star Ranch Staff Writer

Trail riding with horses has become a popular sport. Trail riding is a great way to enjoy nature and spend time with the family. I grew up on horseback doing everything from fox hunting to running barrels. As long as I was with my horse I was happy. Trail riding was something we did several times a week. The arena was fine for warm ups and lessons, but the trails were where the fun was.
I have memories of swimming streams with my horses and trotting through the woods on a Spring day admiring the wild dogwoods in bloom. One time one of my friends and I pretended aliens were after us and we had to gallop full blast across hay fields to escape them. The trails were a place our imaginations and horses could run free. Trails were playgrounds for kids with horses.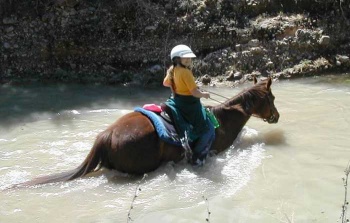 When my husband proposed I accepted with the condition, "I come with horses." He didn't ride and had never been exposed to horses, but he understood that horses were important to me and went along with my desires. Fifteen years later we laugh, now he has a lovely chestnut gelding and has developed his own horse addiction.
How did I turn a city boy into a horse lover? Easy, I introduced him to trail riding. I knew he liked hiking and the outdoors, so the transition to riding a horse on the trails was natural. His first trail ride was up in the Rockies on one of those 2 hours rides where you and 10 others dressed in sandals and shorts (shudder) admire the mountains from the back of a horse. Not exactly my idea of a fun trail ride, but it was a good way to show him that riding was relaxing.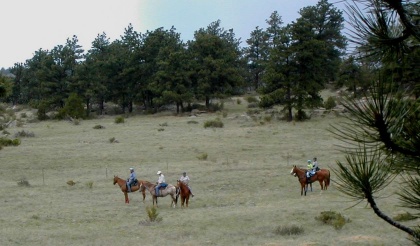 The big breakthrough came when he became interested enough to take lessons. We found a patient lady who taught western lessons at night in a covered arena so we could ride day or night, rain or shine. Once he got his seat established riding became more fun. After a year of lessons we took our first trail riding vacation. This trip found us in Arkansas in the mountains that bordered thousands of acres of forest land. That trip was followed by another to Oklahoma and Tennessee, and then we started hitting the trails in Texas. Each trip we would explore a different region, it was an exciting way to learn about different parts of the country up close.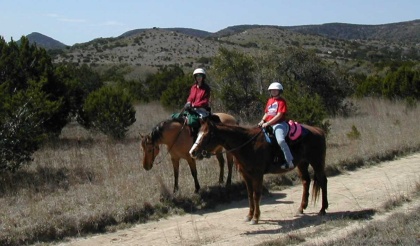 What is it about trail riding that makes it so addictive? Part of it is the interaction with the horse and nature. When you ride your horse out on the trail, you encounter other wildlife you might not normally see. I recall as a child trail riding in the snow in Alaska. I was trotting through a tranquil evergreen forest and as I came around a corner I found myself face to face with a bull moose. Fortunately for me, my horse was a sourdough and didn't over react. We merely turned around and took a different trail. Years later I can still feel the excitement of discovering the moose in his natural element.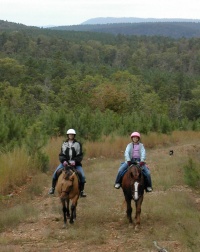 Another reason people love trail riding is the social life. Trail riding clubs are popping up all over the United States. These groups sponsor trail rides and you find once you start attending you see many familiar faces. The groups tend to be informal and open to anyone passionate about horses. The best part is they are fun for kids and adults alike. Our local trail club (http://www.trinitytrailriders.org/) holds cookouts, clinics, games, and regular trail rides, including a costume trail ride at Halloween.
If your current horse isn't suitable for the trails, get one that is. Here are some tips to help guide you on how to select a good trail horse.
If you love horses and love nature, check around your area for trail riding facilities. Some parks have horse camp grounds or day parking for horse trailers. My husband and I have taken to horse friendly bed and breakfasts, many of which are adjacent to public riding areas. Most allow you to bring your own horses and offer comfortable guest horse accommodations at a reasonable cost. See you at the trailhead.
Recommended Books about Horse Trail Riding
The following books are excellent resources for information on trail riding. All give practical advice on training your trail horse and being safe on the trails.