Bar Fifty Ranch – Bismark, AR – Do you like to trail ride? You need to check out the 20,000 acres of trails adjacent to the Bar Fifty Ranch. We first visited the Ranch when we were moving a horse cross country and needed overnight stabling. We immediately fell in love with the place and came back on a family vacation. They have great rental gaited horses or you can bring your own.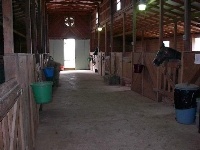 The Ranch has excellent horse facilities if you bring your own horse. They offer stalls in the big barn or covered pens. Both are very nice and your horse will enjoy the creature comforts after a long day of trail riding.
The Ranch also offers Summer Camps for kids and year round they have a petting zoo. They offer riding lessons for all ages you
you don't need to be an expert to enjoy the riding.
The Ranch is situated on 200 beautiful acres in the Quachita Mountains. Hot Springs is a short 20 minutes away.
Trail riding here is fantastic. You could stay a week and never go on the same trail. One memorable trail is the "Roller Coaster" which as its name implies, has a lot of ups and downs. Great fun.
Want to explore horse facilities in another State?
Click below to go to the State you're interested in visiting.
Know about a great Dude Ranch?
Share your experience with us. Give us some feedback at Feedback