Texas Guest Ranch Vacation Information and Reviews
Grasslands Bed and Barn Decatur TX - Looking for a horse friendly bed and breakfast near Dallas? Located in North Central Texas, 45 mile northwest of Fort Worth, 9 miles north of Decatur. Pam and Dan Roberts run a friendly 250 acre horse and rider paradise directly across the street from the LBJ National Grasslands.
The Grasslands contain over 22,000 acres of land with horse and hiking trails. There are some great hills in the area that offer nice views of the surrounding area. The soil in the Grasslands area is very sandy which makes it great in the rainy season when other parts of Texas have turned into black goo clay (that's a technical term).
The horse facilities were excellent. We had four horses in our group and each had their own covered area and run. You can see two of my mares in their covered pens in the picture below. Yes, it was dinner time and they were making their "feed me" faces.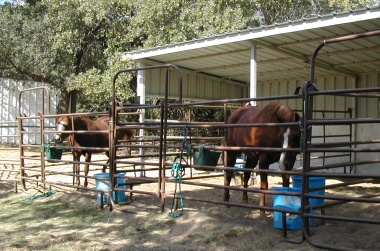 The Bed and Barn features nice rooms for the human travelers too. All have private bathrooms, breakfast and very comfortable beds. We recently spent a three day weekend at the Grasslands and we decided it was definitely a place we wanted to visit again.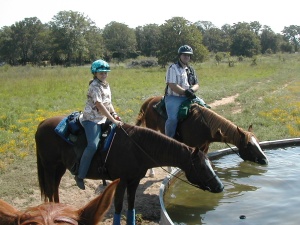 Near one of the main trailheads is a windmill with a large watering trough.
Many of the trails in the Grasslands area are the fruits of labor of the Endurance and Competitive trail riders in the area. We felt very indebted to their hard work because the trails were excellent. The weekend we were there was a 2 day competitive trail ride going on. We were lucky in that one of the judges who was involved with the event stayed at the Bed and Barn with us and gave us a lot of great information about the event. Even though the Grasslands had a large number of riders due to the competitive ride, we had plenty of trails to ride on where we hardly saw a soul.
Hill Country Equestrian Lodge Bandera, Tx - The Texas Hill Country is renown for its wild natural beauty. This Lodge sits adjacent to Hill Country Natural Area with its 6000+ acres of trails and scenery. One of my favorite things about riding in the Natural Area is the number of water crossings. You can see the picture below with me swimming with my hippo-horse.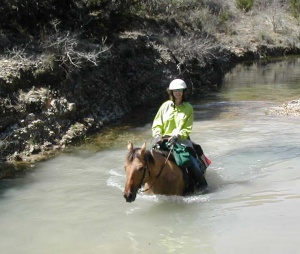 The human and horse accommodations at the Lodge are very comfortable as I can attest. We brought three horses with us on out visit and everyone loved it. We had one of the private cabins complete with a stocked kitchen. Our horses slept in luxury in large box stalls in the modern barn.
Need Family Programs? The Lodge offers extensive horsemanship programs as well as photo safaris, fossil hunts and animal tracking courses.
To work out any sore muscles after a long day of riding, the Lodge offers massage therapy and facials as part of its Spa services. I plan to take advantage of that on my next visit.
Quiet Hill Ranch - Need a peaceful vacation this year? Rest your mind and get back to nature at this serene Hill Country ranch. Located west of Fredericksburg and nestled in the quiet hills, the ranch has something for every member of your family.
Kids love swimming in the Old West style swimming pool or playing at the large playground. We guarantee your children will be thrilled with the ranch "critters" - goats to feed, pigs to scratch, eggs to gather. A true "back to the family farm" experience.
Horseback riding, hiking, bird watching, and stargazing are popular activities at Quiet Hill Ranch. The home cooking will nourish your innards and the scenic countryside will soothe your soul.
The Flying L Guest Ranch - Here's a ranch even Dad will love. The Flying L Guest Ranch, in the heart of Texas Hill Country just outside Bandera, offers comfortable suites, excellent dining, and western activities. For Golf lovers, there is the award winning 18 hole Flying L Golf Course complete with professional PGA golf pros on staff.
Little cowboys and cowgirls will learn new skills through the horseback riding and children's programs. The Ranch is very kid friendly and features daily group activities oriented for kids.
The Ranch also offers Corporate team building and meeting facilities. The Ranch offers several team building workshops to recharge your tired staff. There are 43 spacious suites each with the comforts of home.
Running-R Guest Ranch - Bandera, the Cowboy Capital of the World, is the home of this Texas Hill Country ranch. The main focus of the ranch is horses and riding programs. The ranch adjoins the State Natural Area so there are days worth of trails to explore.
Riding, biking, fossil hunting, and swimming are just a few of the many activities available at the Running R. For horse owners who want to bring their own horse, the ranch has great covered stalls and pens to house your equine in comfort. You also have full use of their arena while visiting so if you want to do any schooling prior to hitting the trails, the ranch can accommodate.
One note of interest, German and French as well as "Texan" is spoken at the Ranch.



Want to explore horsey facilitites in another State?
Click below to go to the State you're interested in visiting.
Know about a great Dude Ranch?
Share your experience with us. Give us some feedback at Feedback